Lidex – helpful and empathetic
– we are committed to sustainable development
For more than three decades, we have been committed to sustainability initiatives – we support environmental conservation, inequality reduction, culture, art and local communities
Our declaration
As an industry leader, we have some obligations. We set market standards also in the fields of responsible business and proactive sustainability.
As an SME company, we urge businesses like ours to engage in initiatives related to the 17 Sustainable Development Goals. We are pleased that other translation agencies are responding positively to our appeal and share their achievements in this area.
Inspired by this success, we take up even more activities for the environment, equality, local communities, culture and art. They are and will be permanently included in our everyday work.
Our initiatives
Sustainable development initiatives require agreement and joint action. In this context, our mission statement – Improving the quality of life through the removal of linguistic and technical barriers in the interactions between individuals – has never been more relevant. For many years, we have been taking up various initiatives to enhance this quality. Those aimed at reduction of inequalities (Sustainable Development Goal 10) are particularly important to us.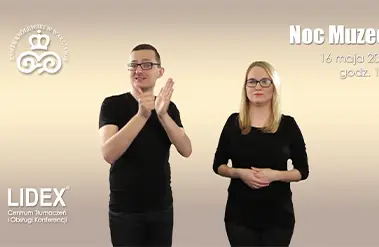 Reduction of inequalities:
Our pro bono services for blind, visually impaired (audio description) and speech-and-hearing impaired people (sign language) include:
audio description for cinema and theatre performances (e.g. as part of the "Cinema beyond silence and darkness" initiative)
a guide of the Royal Castle in Warsaw for speech-and-hearing impaired people
preparation of materials (audio description and sign language) on Covid-19 at the beginning of the pandemics and distribution of these materials to visually impaired, blind and speech-and-hearing impaired people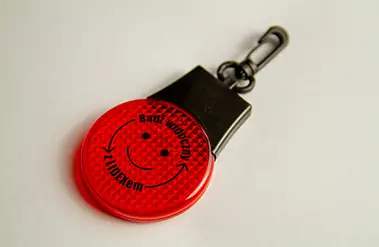 Initiatives for children:
Participation in UNICEF Poland programmes dedicated to children from regions of the world plagued by crises and armed conflicts
Pro bono services for the "Help On Time" Foundation for Children
"Be visible" – 1st edition of the campaign for schools – production and distribution of reflective bands for children
"Be visible with Lidex" – 2nd edition of the campaign for schools and kindergartens – production and distribution of reflective keychains for children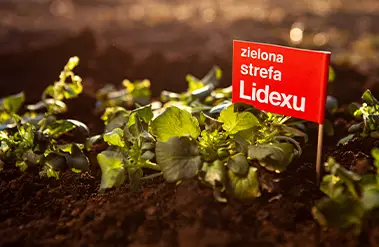 ECO activities:
planting in the Social Garden of the Silesian Museum
reduction of office supplies consumption – e.g. we encourage our customers to switch to e invoices
reduction of the use of plastic materials – a standard practice in our times
reduction of the office space occupied by the company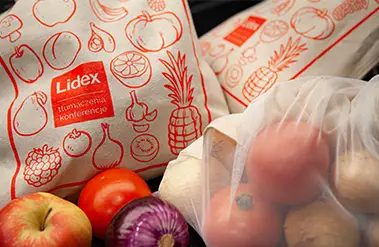 "Be ECO" campaigns:
"Be ECO" – production and distribution of organic bags
"Be ECO 2" – production and distribution of canvas shopping bags
"Be ECO 3" – production and distribution of ECO bags for fruits and vegetables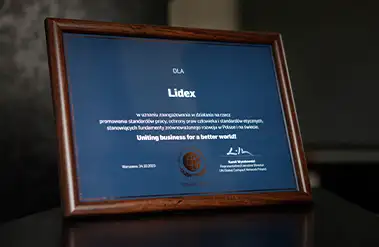 We are an active member of the UN Global Compact Poland
Together with leaders of international and Polish corporations, we undertake sustainable development initiatives. We are proud of the distinctions awarded to us by UNGC for our participation in this Organization's programmes, and also of the appreciation for our activities promoting ethical and labour standards, which are the foundations of sustainable development.
Sustainable development initiatives are not reserved for large organisations only. Even SMEs, such as Lidex, can and should have important achievements in this area.
The 17 Sustainable Development Goals give us a great deal of opportunities for joint initiatives.
Have we inspired you? Let us act together!
Be visible – engage
in sustainable development activities
Engage
If you are reading this text, you are probably not indifferent to the good and security of mankind and the future of our planet. You have probably already taken up several activities in this area. We encourage you to engage:
Activities for sustainable development should become our habit.
We pursue them in simple ways, as far as we can.
Will you join us?